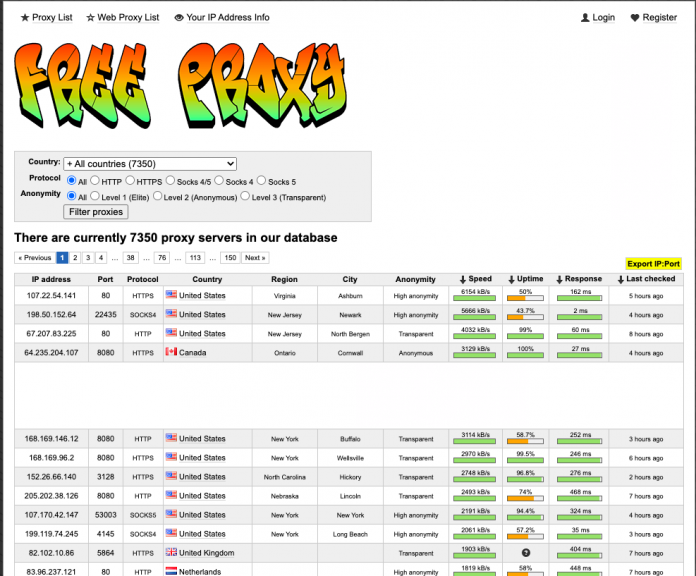 With the internet becoming a hotbed for tracking activities and an ever-growing race to collect data, it has become essential to find a means to hide your digital footprints, especially if you are a privacy fanatic. There are several methods to browse the internet anonymously, but the options are a tad limited if you're looking for free ones. One of the safest options is using a free proxy.
Proxy servers offer a convenient way to hide your IP address and browse the internet without worrying about trackers and websites tracking you. You can easily find free proxy lists on the internet, but it has to be a good fortune if you stumble upon a list of free proxies that are really working.
Free proxy lists are used by many, including data scrapers and those looking forward to bypassing the paywall or rate limits, but free proxies come with certain caveats. You need to make sure that you're using credible proxies since the incoming and outgoing traffic from your PC will be visible to it. To make it easy for you, we have compiled a free proxy list that you can use for your different needs.
Free Proxy List 2020 & Proxy Servers To Hide IP Address
Ghostealth is a company that has offered data center proxies since its inception.
They also have a section dedicated to free proxies only. These can be downloaded at any time. These free proxies are updated every 10 minutes. This means that every 10 minutes you will receive the latest proxies that have been tested for functionality.
The free proxies can also be filtered. Differentiation is made between response time, location, socks or http, and anonymity level-elite or transparent.
2. Free Proxy – Best free proxy server to use for data scraping
If you want to use a data scraper bot, there is no better site than 'Free Proxy.' As evident from its name, the website offers a host of (7350 proxy servers at the time of writing) proxy servers.
You can choose from a variety of protocols, including HTTP, HTTPS, SOCKS4, SOCKS5. The Free Proxy website offers three anonymity levels – Level 1 (Elite), Level 2 (Anonymous), and Level 3 (Transparent).
There is also an option to choose free proxies according to a particular country. The website's neatly designed user interface offers information about anonymity level, speed, uptime, response, and the last time when the free proxy was checked or updated.
3. ProxyScrape – Popular Proxy site with ~10,000 free proxies
ProxyScrape is a popular name amongst those who frequently search for free proxy lists.
What makes this site unique is that all the proxies enlisted here are frequently checked, therefore eliminating the chances of finding a free proxy that doesn't work. Here, you can find a proxy server list for a variety of purposes like adding an extra layer of protection to your internet traffic or scraping data from a website without harming it, and more.
ProxyScrape also offers premium proxies if you want them better and faster.
Also Read: 5 Best Free Proxy Servers To Visit Sites Anonymously In 2020
4. ProxyNova – Free proxy list updated every 60 seconds
ProxyNova is another website to get a list of highly functional free proxies. The website checks over a million proxy servers daily, with most proxies, tested every 15 minutes, and the proxy list is updated once every 60 seconds.
On the ProxyNova website, you can filter proxies according to country and anonymity level. You will see options like proxy speed, proxy port, uptime, proxy country, and the level of anonymity on the homepage. Most of the top proxies on the website are not more than a minute old.
However, there is a big caveat that unlike other sites on this list,
ProxyNova needs to be updated manually and does not get refreshed automatically.
5. SSL Proxy – Get free and working SSL proxies
The number of free proxies available on this website is relatively less compared to other sites enlisted here. With a meager 100 free proxy sites, the website hosts proxies from various countries around the world.
To compete with other free proxy offering websites, SSL Proxy has recently launched a new product named Rotating Proxy that works like a regular HTTP(s)/Socks5 proxy, without any app. However, it has 3252 stable IPs behind and supports IP/Pass auth and country filter. There are two types of rotating proxies – fast-rotating proxies and slow rotating proxies.
The HTTP proxies on the website are updated every 10 minutes, according to the homepage's claims.
6. Hide.me – Free proxy server to surf web anonymously
Hide.me needs no introduction in a list of free proxy servers, and it should not be a surprise entry here. You can find the free proxy tool under the VPN apps section as the website primarily focuses on VPNs, which is another way to hide your digital presence on the internet.
To visit a site anonymously on Hide.me, you will need to enter the website in the text box, choose the country (the options are limited though), and choose from other options available – allow cookies, encrypt URL, encrypt page, remove scripts, remove objects.
Hide.me also offers Chrome and Firefox extensions to access a website anonymously from within the browser quickly.
7. HMA – Access blocked websites with free proxy sites
HMA or Hide My Ass is a rather popular website used by several users to bypass internet censorship. HMA offers a regularly updated free proxy service that allows you to hide your original IP address and routes your internet traffic via proxy address.
To use the free proxy server service, enter the website in the textbox. Then, choose whether you would like to allow cookies, remove scripts, and encrypt the URL in the connection setup menu.
HMA's proxy servers are majorly meant for individual users who want to unblock blocked websites in their region. For professional purposes, you can use other enlisted websites that offer a free proxy server list.
If you're a freeloader hunting for free proxy lists, you must try the Open Proxy Space. This website offers a list of always updated proxies, and there is also an option to upload your proxy sites. You can choose from a variety of countries offered on the website.
Free proxies on Open Space Proxy are enlisted according to the last time when they were updated. It goes without saying that the older the proxies are updated, the fewer chances they'll be working. After choosing a batch based on the time of updation, the next step is selecting the country. The IPs can also be exported in a text if you intend to use them in an API.
9. ProxyScan – 5000+ Free proxies
ProxyScan is a standard site offering a free proxy list with more than 5000 proxies in store for users. All the proxy sites offered by ProxyScan are checked every 10 minutes.
We have included this website in the list because of the parameters it offers for choosing the best proxy site. You can apply parameters like ping, country, city, type, and degree of anonymity.
The website also offers other tools like a proxy checker, proxy filter, and proxy scraper. The website updates automatically with freshly added proxy sites.
Free Proxy List FAQs
1. What is the best free proxy?
There are several websites offering free proxies. You can refer to the list above which contains websites like Free Proxy, SSL Proxy, ProxyScrape, and ProxyScan.
2. Is free proxy list safe?
Most of the free proxy lists offer proxy sites that are volatile and you can not really rely on these proxy servers for performing activities like carrying out payments and other exchange of confidential data.
3. How do I use a free proxy server?
To use a free proxy server in Google Chrome, go to Settings> Advanced> System> Open your computer's proxy settings. Under Manual proxy settings, enter the proxy address and port.
4. Where can I find proxy?
You can find several websites on the internet offering proxy sites. Above, we have enlisted 8 websites offering free proxy list. You can visit sites like ProxyScrape, ProxyNova, ProxyScan and Open Proxy Scan to find proxy sites.
The post Free Proxy List 2020 [Proxy Server List To Hide Your IP Address] appeared first on Fossbytes.