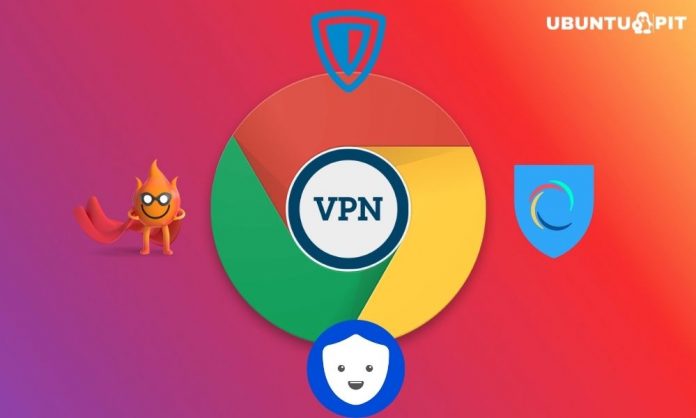 Google Chrome's security feature is not sufficient to protect your privacy. Moreover, it cannot unlock any blocked contents. So at least you need to install a free VPN to protect your privacy and access restricted sites. But finding the best VPN for Google Chrome is not an easy job. Because there are so many fakes and scams around the web, you may fall in danger if you do not choose the right VPN. Moreover, you may pay much more for data leaks, network restrictions, and slow speed.
Well, the VPN lets you access blocked sites and ensure privacy. But before installing a VPN, you must be aware of this performance. A wrong decision suffers you much more. So, we are here to help to make the right choice.
Best VPN for Google Chrome
---
When you choose a VPN browser extension, then you do not need to install any separate software. This Chrome extension helps you to access any sites without any restriction. We find out free but safe VPN. Here we have listed the 10 best free VPN for google chrome based on speed, security, and VPN features. Let's break network restrictions and browse any site anytime, anywhere.
1. VeePN VPN – Free VPN Chrome extension
---
VeePN VPN extension for Chrome is a VPN with a high-speed server network. It offers 2500+ servers in 42 countries. With secure Web Access in HotSpots, you can connect to public Wi-FI freely and securely. You will also be able to access any Geo-restricted content. In addition to the basic features that every quality VPN offers, VeePN also has military-level encryption, no restrictions on traffic, and allows you to be completely anonymous.
Key Features of SetupVPN
All your internet traffic remains encrypted. You are safe from hacker attacks, phishing, and malware.
With Netguard, you get rid of annoying and harmful ads.
Your visits and download history, location data, and IP addresses stay secret.
You can connect a VeePN VPN to any device in your home (phones, tablets, computers, consoles, smart TVs, routers, and Linux).
Secure and fast access to all blocked content and streaming services.
Has a KillSwitch function.
Pros: This VPN will absolutely provide you with the best protection on the internet, giving you access to all your content and keeping all your activities and data completely anonymous.
Cons: For more free and secure use, you would be better off installing the paid version.
2. SetupVPN – Lifetime Free VPN
---
SetupVPN is the ranked one VPN on our list. You can unlock any website in your school, office, even in your country using this VPN. The best of this VPN is that it offers unlimited bandwidth and free for everyone. Moreover, SetupVPN ensures highly ensure your browsing privacy. VPN1, a US-based VPN service provider, develops SetupVPN. They offer both free and premium. But most of the cases free version is good enough to meet general requirements.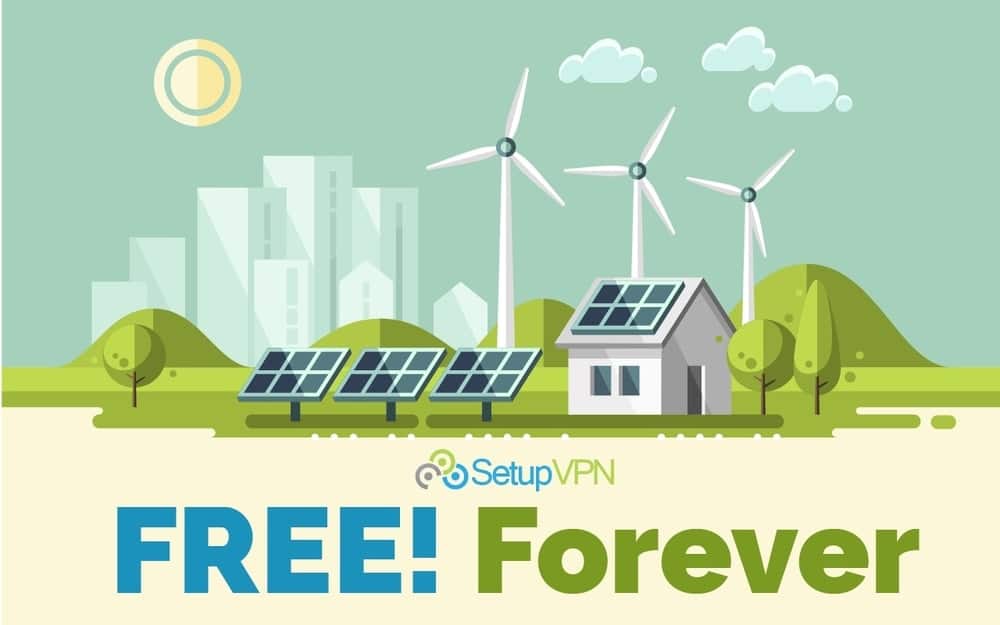 Key Features of SetupVPN
You never face any bandwidth limitation problem. So you can enjoy UNLIMITED bandwidth service!
The speed of SetupVPN is 25 Mbps Internet connection on the US, UK, and Canada servers which is super fast speed connectivity as a VPN server.
Do not worry about security. SetupVPN encrypts your connection information.
SetupVPN has more than 100 servers all over the world. So you can access blocked sites from other countries.
No technical knowledge is required to run this VPN. Just integrate this with your google chrome, create an account, change your location, and explore the world!
Pros: If you are looking for a free VPN, then SetupVPN is the best pick. Because no VPN can offer free service with dedicated fast speeds like SetupVPN.
Cons: SetupVPN only offers SSL encryption. We definitely miss 256-bit encryption. Moreover, some basic VPN features such as dedicated IP, Split tunneling, any Adblocker apps are absent.
3. Hola VPN- Free VPN Proxy Unblocker
If you are looking for an ad-free VPN, then you can install Hola VPN. It promotes itself as a "Free VPN" service provider. Besides, you can enjoy the fastest VPN service because of using split-tunneling technology. Hola does not rely on a fixed managed server. Instead, it uses "peer-to-peer" traffic passing technology. So your traffic passes to others who have installed Hola. Again, though, no fixed server is used. Therefore, it isn't easy to detect that you use VPN. In 2012, two Israelian Derry Shribman and Ofer Vilenski founded Hola VPN.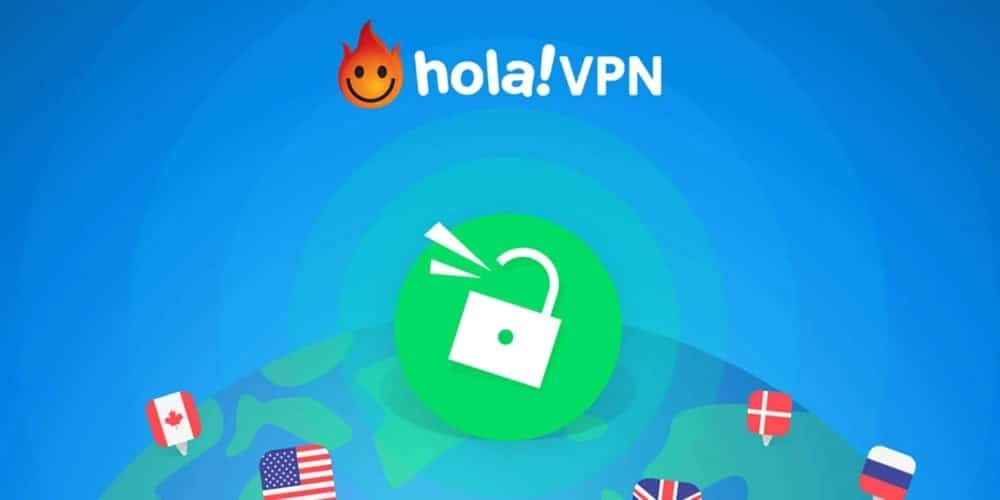 Key Features of Hola VPN
Easy to use. It designs so simply that anyone can use Hola VPN without having any technical knowledge.
High-speed access to unblock sites is another key feature of Hola VPN. It does not use any particular server, ensuring good traffic speed passing from other Hola users. So you never experience buffering issues.
If you are looking for a VPN for streaming 4K videos, you can pick Hola VPN.
Having split-tunneling technology only sends minimal required information through a channel, and the rest is sent directly.
It allows unblocking most sites free.
Pros: If your main requirement is to unblock most sites for free, you can install Hola VPN.
Cons: There is no encryption and privacy service for Hola VPN free version. For this, you need to subscribe to the Premium version.
4. Browsec VPN – Free VPN for Chrome
---
Browsec VPN, the Russian VPN company, claims boldly that speed reaches up to 100 Mbs without sacrificing security, but the actual result is not near the claim. But it has a good customer base. Currently, more than 8 million users trust Browsec. It is one of the best user-friendly VPN. There is a premium subscription package. But the basic VPN requirement features are fulfilled by its free package.

Key Features of Browsec VPN
Protect your data by industry lead AES-256 military-grade encryption.
The best part of this is that it hides your identity. So your personal privacy is protected.
They have 400 servers in 36 locations, and the number is growing. But the free user only uses 4 servers.
The installation process is straightforward. Besides, the user interface is easy to use.
If a VPN server is not available, then browsec automatically shuts down itself. So you can survive being caught by others for unblocking sites.
Pros: You can secure a logging policy using Browsec. Moreover, for easy usability and setup, Browsec VPN is the right choice for you.
Cons: Browsec does not provide torrenting service. Moreover, it is compatible with TOR download.
5. ZenMate Free VPN
---
ZanMate is another best free VPN for google chrome browser to unblock blocked sites. in 2013 two Germanian, Markus Hänel and Simon Specka, started the journey ZenMate as the company name of ZenGuard. In 2018 Kape Technologies acquired ZenMate. Over 40 million users trust ZenMate to unblock VPN and security services.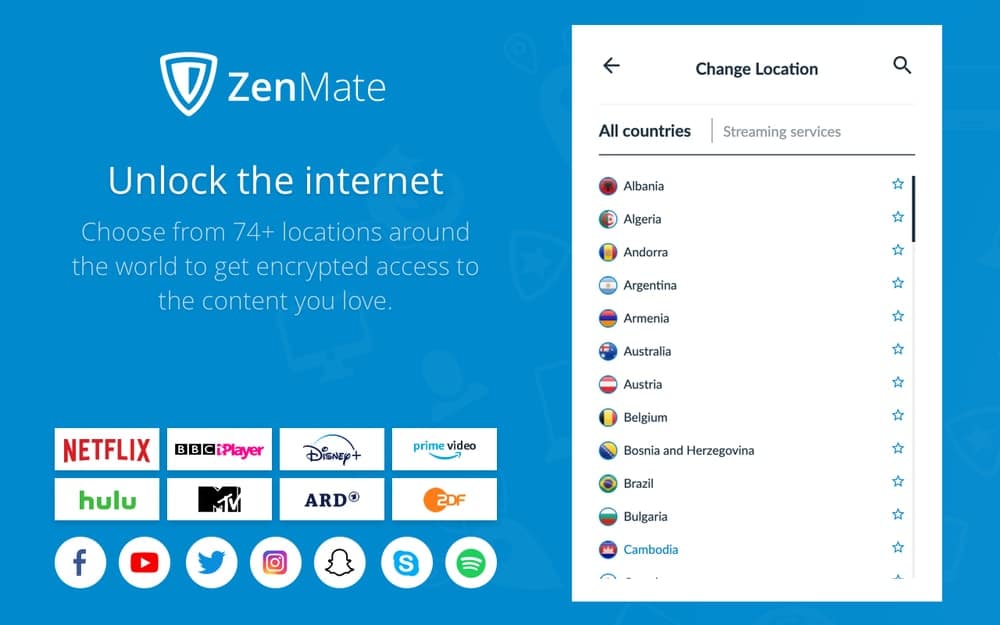 Key Features of ZenMate
When you surf the internet, ZenMate encrypts all your browsing traffic. In addition, it protects your bank and personal data with top-level encryption.
It has 3500 servers in 79+ countries so that you can access websites, watch & stream movie, and download data from anywhere from 79 locations. But Zenmate free users get this service from only 4 countries.
With ZenMate, you can change your geolocation and hide IP to access any sites.
ZenMate guarantees the fastest private virtual network service.
Besides, ZenMate claims absolute anonymity with a zero logs policy. So none, including government, ISP providers, and advertisers do not get any idea about your activities.
Moreover, it also allows torrenting on all servers—this absolutely great news for file sharing community.
Pros: Zenmate is the safe choice to unlock blocked sites by hiding IP, stay anonymous. Even you use a poorly secure WiFi connection, Zenmate does everything to protect your online activities.
Cons: Everything is good, but we miss tunneling protocol and customization features available in some other VPN service providers.
6. Hotspot Shield Free VPN Proxy – Unlimited VPN
---
Hotspot Shield bold to claims "world's fastest VPN," including encrypts your connection, hide your identity, and access blocked sites for free. Pango (former AnchorFree Inc.), a Silicon Valley company with offices in the Ukraine and Russia, developed Hotspot Shield VPN. According to Hotspot Shield Official pages, it protects over 300 million customers daily. They offer both premium and free packages. But the free premium is good enough for personal usages.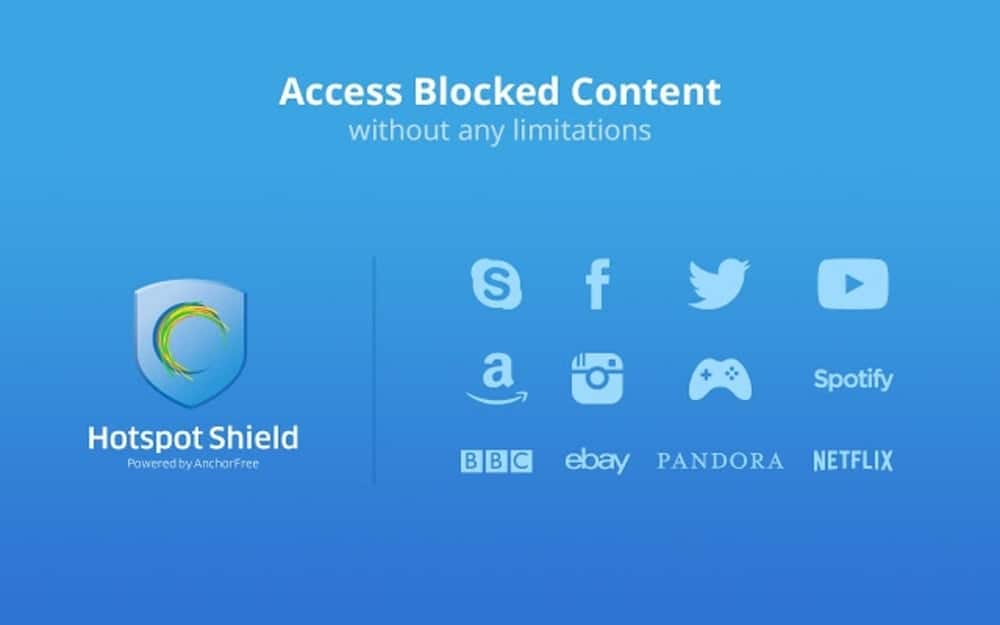 Key Features of Hotspot Shield VPN
With Hotspot Shield VPN, you can unblock any sites bypassing block IPs.
Nowadays, internet users always worry about malicious attacks. But Hotspot Shield VPN ensures absolute protection against malicious and hide IP for providing a safe web surfing experience.
Playing the online game with other countries need a high-speed internet connection. Hotspot Shield VPN meets this requirement by removing the bandwidth limit and increase internet speed.
Hotspot Shield VPN encrypts browsing traffic and unlocks restricted contents, blocked sites, and messaging applications.
The great news for file sharing community is that Hotspot Shield allows torrenting.
Pros: This fastest VPN has no claim about IP, DNS and WebRTC leaks.
Cons: Though they offer freemium but freemium account shares data with advertisers.
7. VPN Free – Betternet Unlimited VPN Proxy
---
No registration is required to connect VPN with Betternet. The US-based company, Betternet, offers unlimited free VPN to unblock blocked websites and protect personal privacy. Using Betternet Google Chrome VPN, you can mask your IP and turn public WiFi into private WiFi. Moreover, no ads are shown in this VPN. So it would be the best pick for free users.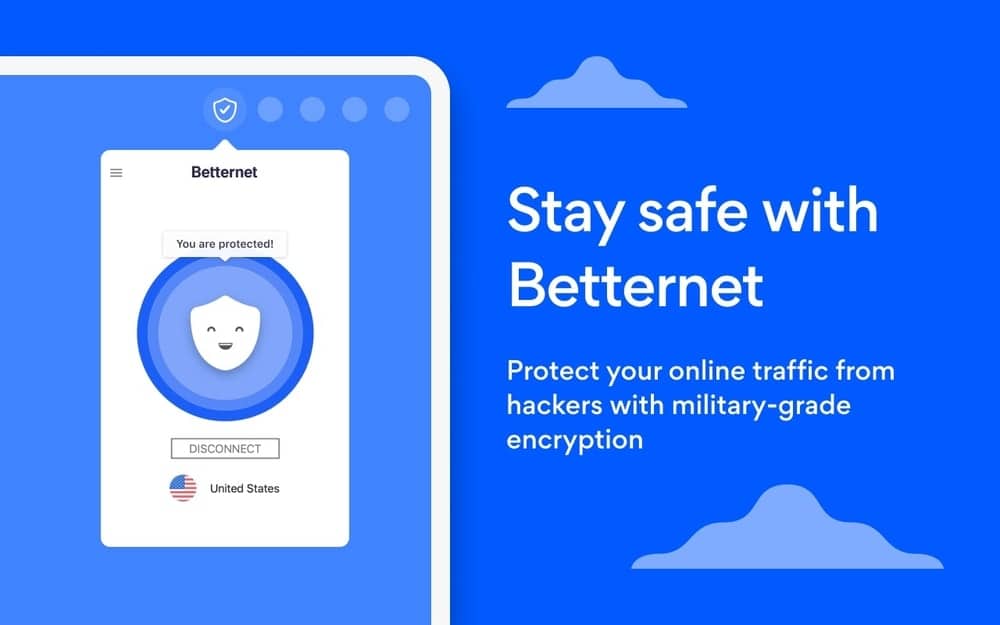 Key Features of Betternet VPN
Betternet works like a Tor proxy that secures your internet password and personal data.
When you are going to web surf, it automatically detects your location and connects with the nearest server to provide the fastest internet speed. Besides, it maintains your anonymity.
Betternet uses the Catapult Hydra protocol, which becomes popular for its speed and performance.
Moreover, it makes safe internet connections secure with AES 256-bit military-grade encryption.
It allows hide IP and bypass geo-location restriction to access blocked contents.
Pros: The best part of this VPN is that it offers simultaneously connects five devices.
Cons: Though it provides a free VPN, it has some limitations such as lack of basic security features, limited bandwidth, limited servers, and no torrenting option.
8.  TunnelBear VPN
---
Join with more than 20 million Tunnelbear users who securely browse public WiFi and blocked sites. In 2011 it started its journey from Canada, but currently, it is accessible from anywhere. It comes with almost all VPN features, and you can use its free version without hesitation. But the usage limit for the free version is 500 MB per month.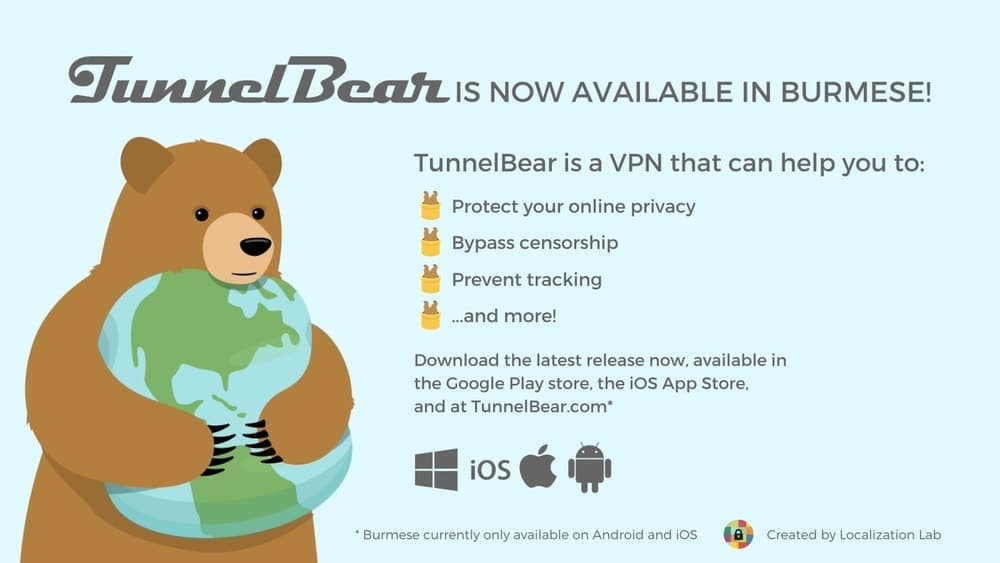 Key Features of TunnelBear VPN
With TunnelBear, you get absolute private internet security for online web browsing and sharing. There is no snooping around the users. So no government, ISPs, ads agency, employers, or others can trace your online activity.
You need to worry less about malicious attacks and data pass when you use public WiFi.
Though it has on log issue, you do not need to worry that your online activity is stored somewhere.
With 900 servers located in 20 countries worldwide, TunnelBear confident to provide uninterrupted online surfing and streaming experience with the fastest speed internet connection.
In certain sections, the web mechanism detects the VPN and blocks access. But TunnelBear has smart anti-VPN features, which help you to keep continue web surfing.
Pros: The AES-265 encryption does not compromise internet speed. It features with fastest tunnel speed.
Cons: Heavy CPU load makes your CPU processing times slow.
9. DotVPN — a Better way to VPN
---
If you are looking for unlimited bandwidth and a permanent free VPN solution, you can pick DotVPN. With over 1000 servers at 30 virtual locations, you can access anything from anywhere. If you can not access any content in a particular location, you switch your virtual location and access the content. No limit to switch your virtual locations. Almost 80% of DotVPN features you get at its free plan. I think it is good enough for regular users.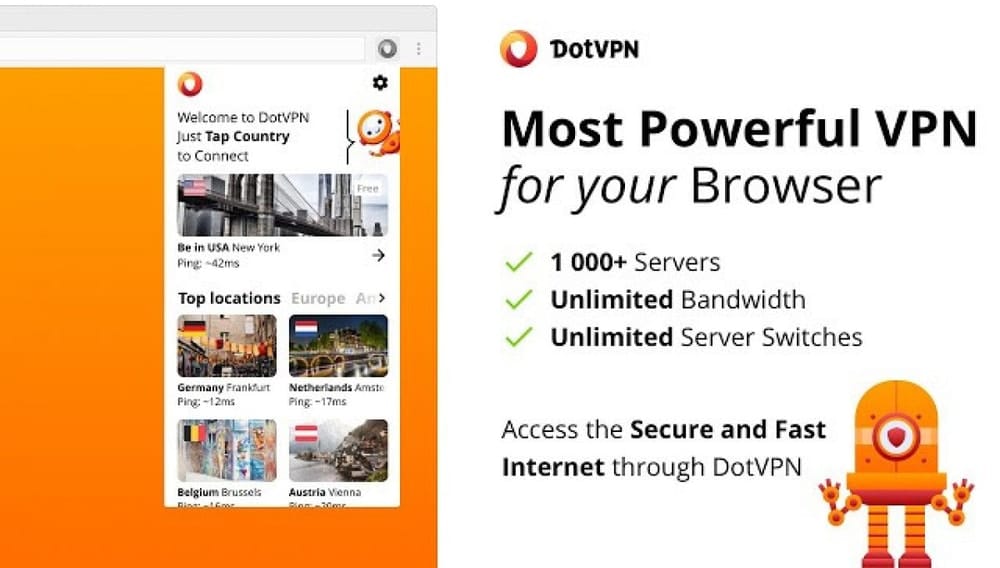 Key Features of DotVPN
DotVPN uses 256-bit encryption and a 4096-bit SSL key which is two times stronger than the banking security standard.
With a powerful Ad-block filter, you can save traffic up to 30%. Besides, it blocks trackers and analytics.
While you are in office, school, or public places, you can use the network safely. Because DotVPN protects your personal data and browsing history.
Though it automatically connects with a less busy server, you get fast internet speed. You never concern about internet speed. DotVPN takes the responsibility.
No log policy here. So you do not worry about your browsing history.
Pros: If you are looking for a simple and easy VPN solution with a high-speed internet connection, you may install DotVPN.
Cons: It does not allow torrenting. Moreover, video streaming is not possible here.
10. NordVPN — VPN for Google Chrome Extension
---
NordVPN is the most popular paid VPN in the market. Unfortunately, the free version is discontinued by the provider. However, you can enjoy 30 days of free usage. Panama develops the application. Installing 5300 servers in 59 countries, NordVPN ensures super speed, strong security, and unblocking content features.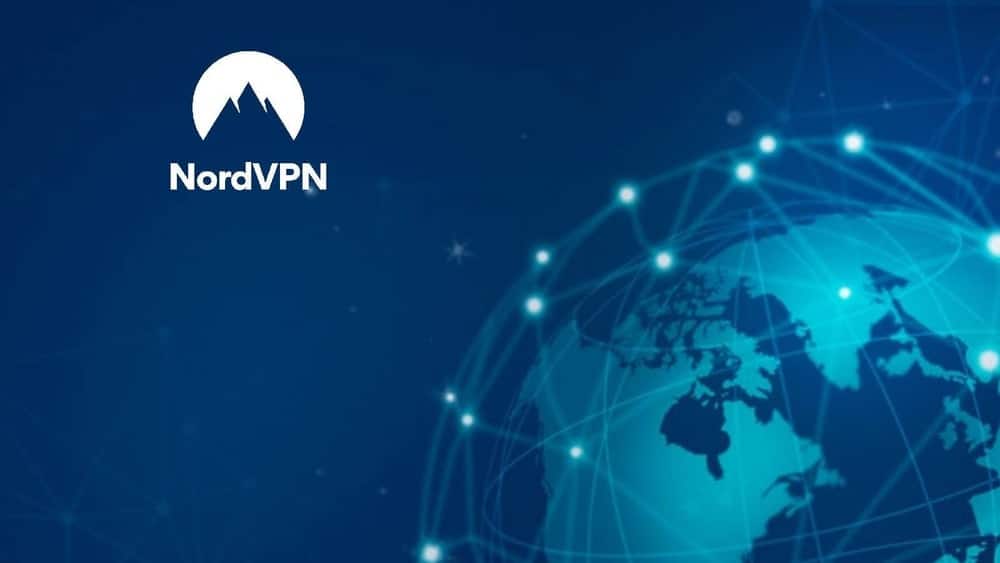 Key Features of NordVPN
NordVPN ensures absolute privacy to confirm zero tolerance about logs, WebRTC protocol leaks.
With the unique CyberSec feature, NordVPN blocks all suspicious activities in the network.
You can securely surf the web in public WiFi or office. Because NordVPN encrypts your internet connection and hides your browsing activities. NordVPN uses the AES-256-CBC cipher, which is the master of encryption technology.
With split tunneling features, you can configure your apps to either disable or enable for VPN connection.
Moreover, it allows Kill switch, torrenting features.
You can simultaneously connect up to 6 devices at a time.
Pros: If you are looking for top-notch privacy and security service, I recommend using NordVPN. Because it makes double protection with double VPN!
Cons: Though it allows configuration, the process of configuration is not user-friendly.
11. Windscribe – Free Proxy and Ad Blocker
---
If you are a light user, you can use Windscribe. Its premium service is excellent. But you can also enjoy paid version service for free up to 10GB per month. It is a Canadian VPN. Windscribe helps you to mask your IP, blocks ads. You can access servers in over 110 cities in 62 countries. Overall, Windscribe is a simple but powerful VPN.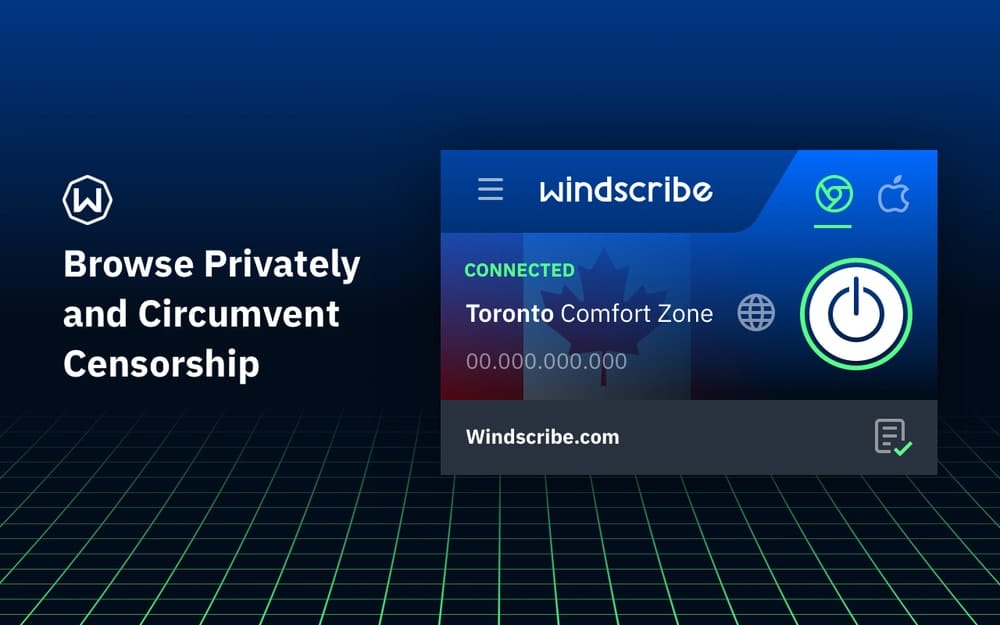 Key Features of Windscribe
With Windscribe, you can browse privately even your government, office, or school block contents. In addition, Windscribe helps you to private access the restricted contents.
Windscribe not only is a proxy extension but also performs as ads, tracker, social and malware blocker.
With Timezone Spoofing features, it solves the IP and browser's time zone difference problem.
Do not worry about cookies. It detects cookies and deletes these when close the tab.
Windscribe secures encryption protocol highly. So your DNS information never leaks.
Pros: It has a dedicated 'Windflix' server for Netflix and Hulu in UK and US. Besides, It has a no-logging policy, kill switch features, and so on.
Cons: The streaming service outside of the US and UK is not good. Moreover, the internet speed is average.
Our Recommendations
---
While considering free Google Chrome VPN, you need to consider speed, safety, and accessibility. All VPNs here we listed are fully compatible with the Chrome browser.  Moreover, these VPNs ensure prime security features. If you have no choice, then you can pick anyone from the above list.
Every VPN allows limited features for the free users or strict data limits to push you to purchase premium plans. So you want to choose a VPN randomly, then you can pick either SetupVPN or ZenMate. You get almost all VPN features from both services.
But if you are looking for the best free lifetime VPN, you can pick any one among SetupVPN, Hola VPN, or DotVPN. For security concerns, you can pick from Browsec, TunnelBear, NordVPN. However, for streaming video, you choose either Hola VPN or Hotspot Shield. Finally, if you are looking for a budget-friendly premium VPN, NordVPN is the best option.
Finally, Insights
---
There is no alternative to using a VPN to protect your privacy. Because web browser built-in security is not good enough to protect personal data leaks. So we recommend you at least install a free VPN for your browser. When you satisfy with the free VPN service, then you can upgrade the package for premium services.
If you are a regular Google Chrome user, you can install anyone from the above list. In addition, most of the VPN compatible with other web browsers, so you can also test VPN with other browsers.
However, if you are already using any VPN for Google Chrome, do not forget to share your experience with us. Your true review helps others to find out the best pick for him. So let's share your experience with us and enrich this platform.